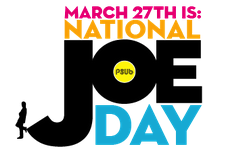 Planet Sub is buying anyone named "Joe" a free six inch sandwich this Friday for National Joe Day. This marks the 2nd year the oven-baked sandwich chain has offered their customers named Joe a free sandwich. The offer extends to anyone with "Joe" as part of their first name, including names like "Joanne, Josephine, Joey, Joseph, Mary-Jo, etc."  In addition to the 100% sandwiches for the Joes, Planet Sub is offering "friends of Joe" a discounted sub at $3.99 (but they must have a Joe with them). Director of Marketing Trevor Forssell said, "We are piggy-backing on other creative promotions like 'super hero day' to continue to develop our unique relational marketing platform."
Last year the 38 unit sandwich franchise served up over 300 free sandwiches to the Joe's, and they aim to beat that number this year. They are launching a social media campaign to "Tag-a-Joe" with hopes that their fans will act as an organic platform to reach the Joe's.
Director of Marketing, Trevor Forssell, said, "When we discovered National Joe Day, we started to get very excited at the prospect of celebrating it through a promotion like this. The idea that anyone named Joe would be getting multiple invites to a free lunch by their friends and co-workers really brought a smile to everyone's face."
To redeem this offer, Joe's need to bring their photo ID along with them to any Planet Sub restaurant on Friday March 27th. More information can be found on the brand's Facebook page: www.facebook.com/planetsub.
Share and tag your friends named "Joe"!