Box Lunches
Have a corporate event to cater? Call Psub and
order today!
Employees won't complain about lunch meetings or required retreats when you call on Planet Sub to cater. Or you can be the world's greatest mom and order some box lunches for your kid's next field trip. Just watch out — we can't guarantee that other kids (or co-workers) won't try to sneak a bite.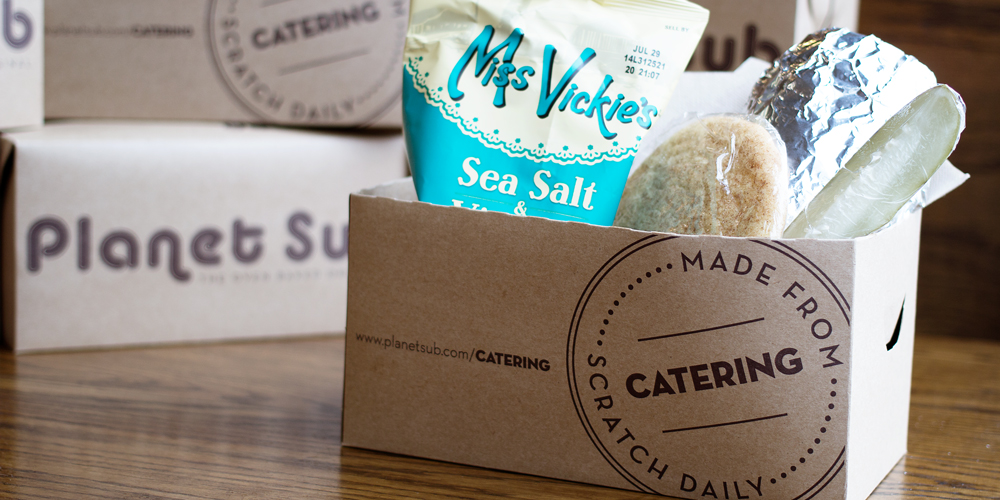 These Aren't Your Basic Box Lunches.
Here's what you will be greeted with when you open your box lunch:
A delicious, fresh-made sub of their choice
A bag of chips (eat 'em on the sandwich, on the side, or save 'em for later — whatever you please)
A pickle (for good measure)
A fresh-baked cookie (can't forget dessert!)
Call 

(913) 980-1942 for catering in the Kansas City Metro.
For all other stores, find a location near you.
We make it easy for you to customize your box lunches and satisfy everyone's craving. Select any of our 6" sub sandwiches, including:
The Experience: our signature Chicken, Bacon, Jalapenos, Cream Cheese, Pepper Jack, and Homemade.
Torpedo: Salami, Pepperoni, Pastrami, Swiss, Black Olives, Lettuce, Tomatoes, and Dijon Mustard
The Super Hero: Salami, Pepperoni, Spicy Capicola, Provolone, Red Onions, Lettuce Banana Peppers, Oregano, Oil & Vinegar
The Planet Sub: Premium Roast Beef, Oven Roasted Turkey, Smoked Ham, Bacon, Swiss, Lettuce, Tomatoes, Dijon, Mayonnaise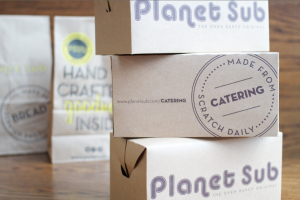 Make your next board meeting anything but boring — call
your nearest Planet Sub
to discuss our catered boxed lunches!