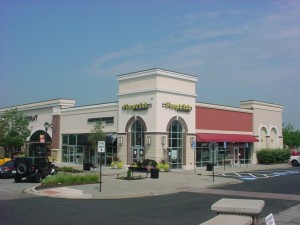 Planet Sub recently opened in St. Joseph, Missouri marking the first new prototype store in near proximity to the Midwest chain's corporate headquarters.
"I have been eating at Planet Sub in Kansas City for years and always thought one would go over great in St. Joe," said franchisee Shannon Johnson. "The feedback since we've opened has been great from everyone. Multiple customers have asked, 'Why didn't you open Planet Sub up years ago?'"
Being only 45 minutes away from the majority of the corporate stores, opening a new unit in St. Joseph was a markedly delicate decision; "We knew the demand for the product was great, it seems like every week someone was demanding we open a store up there," said director of marketing, Trevor Forssell. "But we had to be sure the location was excellent and that the operator would maintain unwavering brand integrity before we would allow a unit to open that close to home base. We feel like we've found that in the site as well as with Shannon."
The location is an endcap directly off the Belt Hwy, the main vein of St. Joseph in the Shoppes in North Village. The lifestyle center has multiple national tenants as well as complimentary dining options, and also places the unit central enough to service a large area with both delivery and catering.
"The St. Joseph store really is a testament to the direction of the brand as a whole," said Director of Franchising, Ryan Joy. "Two years ago, we stood in the exact same center considering opening a corporate unit, and here we are today passing the opportunity on to a very excited franchisee. Our focus and vision for the development of the franchise system has never been stronger."
Johnson added, "I've had numerous customers say, 'this might be the best sandwich I have ever had.' It makes me immeasurably proud knowing that our product is truly that good, and when people tell me they are interested in opening a Planet Sub, all I can say is, go for it. I wish I had done this years ago."
Planet Sub in St. Joseph: 5301 North Belt Highway, Suite 115, St. Joseph, MO., 64506. (816) 368-5953