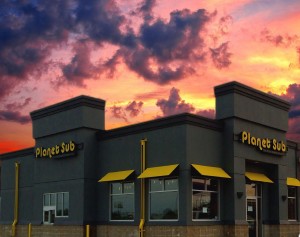 Planet Sub has opened their first new drive-thru prototype location in North Sioux City, marking their first store in South Dakota. The franchise group who opened the new store earlier in July of 2014 has extensive restaurant experience within their portfolio, and being new to the Planet Sub franchise family were eager to be a part of the prototype development.
"We jumped at the opportunity to launch the new prototype alongside a group with such strong operational experience," said Director of Franchising, Ryan Joy. "It is always exciting to add new technology and revenue streams to our systems."
In addition to the new drive thru model, the location offers extended hours to allow for fresh-made breakfast options. The concept will use it's famous bread made from scratch for hot breakfast sandwiches along with a variety of made to order breakfast burritos, and cinnamon rolls.
"We are excited to be adding a new layer of convenience to the guest experience," said Trevor Forssell, Director of Marketing. "First, we are capturing an entirely new revenue stream, but also we are reshaping what it means to get a sandwich on the run. Until this point the options in the sub category have been very limited for those seeking a quick and convenient option that offers a healthy and satisfying meal. Nothing beats our oven baked subs, granted I'm biased, but the smiles on the faces of our drive-thru customers don't lie."
The store located just off I-29 in North Sioux City has both freeway access and visibility, which has led to an influx of new patrons eager to try something fresh and new. Customer interaction and service is a priority to Planet Sub's branding philosophy, and guests are now able to enjoy this same experience from the comfort of their cars.