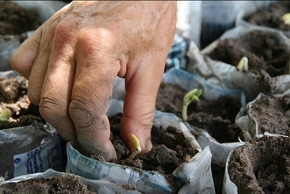 Planting Trees for Earth Day 2014! As part of their ongoing sustainability initiatives, Planet Sub announced that on Earth Day (April 22, 2014) the company, through their newfound partnership with Trees For the Future, has made a commitment to plant one tree for every sandwich sold.
The company hopes to plant at least 8,000 trees through their efforts on Earth Day. Tree's For the Future was founded 25 years ago with roots back into the early 70's when founders Dave and Grace Deppner who were traveling abroad, discovered the human tragedy brought on by illegal logging and unsustainable land management systems in third world countries. With the singular goal of "Planting Trees, Changing Lives", Trees for the Future helps to revitalize degraded lands by providing farmers with tree seed, technical training, and on­-site planning assistance in hopes of helping people save their homes and way of life. Trees for the Future currently has operations in 19 different countries throughout Africa, Asia, and Latin America and have plans to plant their one hundred millionth tree sometime this June.
The partnership between Planet Sub and Trees for the Future comes on the heels of a recent Planet Sub rebrand including refined architectural design and the incorporation of reclaimed and renewable building materials in their stores designs. New Planet Sub stores feature elements like beetle­kill Ponderosa pine sourced from The Sustainable Lumber Co., reclaimed metal, and repurposed storage containers whenever possible. Planet Sub places emphasis on having "Authentic food and a passion for people," and sees the partnership as a way to help not only the environment and offset the company's carbon footprint, but also have an impact on agroforestry on a global scale.